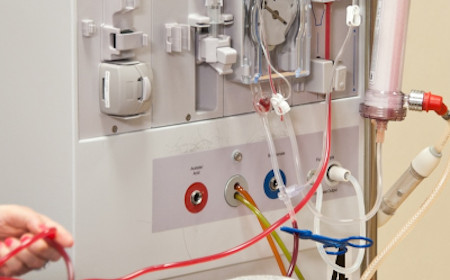 Credit: National Institutes of Health
Editor's note: This story has been updated to include comments by the new owners of the Hapeville and Stone Mountain clinics.
At Hapeville Dialysis Center, patient deaths surged more than six times above the national average in 2018, yet administrators failed to investigate why, according to state inspection reports.
In Stone Mountain, clinical staff at Veritas Dialysis mishandled potentially infectious waste and used dialysis machines that had broken parts for months.
And at Gwinnett Dialysis Center in Lawrenceville, a nurse in 2020 stored blood specimens inside a refrigerator that stored patient medications.
These centers for the treatment of end-stage kidney disease are among the 45% of Georgia dialysis centers that have fallen so short on patient safety, care and other standards that regulators decided to dock their pay this year.
Georgia dialysis centers failed to meet federal performance standards at one of the highest rates in the nation, an Atlanta Journal-Constitution analysis found. What it means for the safety of Georgians facing end-stage kidney failure is complicated, but it underlines the struggles they face when they place their lives in the hands of an industry long criticized for placing profits ahead of quality care.
"Dialysis in the U.S. is a total mess," said Ryan McDevitt, a Duke University business professor and dialysis industry critic. As the industry boomed in recent decades, he said, for-profit chains boosted their bottom lines*note 1 by snapping up dialysis centers, cutting staff, increasing caseloads, overprescribing medication and replacing registered nurses with less-qualified, lower-paid employees.

One critic says that as the dialysis industry boomed in recent decades, for-profit chains boosted their bottom lines by snapping up dialysis centers, cutting staff, increasing caseloads, overprescribing medication and replacing registered nurses with less-qualified, lower-paid employees.
Such practices endanger some of the nation's most vulnerable patients. Many live in poverty because they can no longer work and are disproportionately Black or Latino, groups that have historically had less access to healthcare.
Their health is especially precarious. Infection ranks among the biggest threat to those with end-stage renal disease.
To curb abuses, Centers for Medicare & Medicaid Services (CMS) about a decade ago started reducing payments to centers that fall short on quality measures. The Hapeville, Stone Mountain and Lawrenceville clinics are among the five in Georgia this year face that the steepest financial penalty — 2% — for their performance. The others are Dublin Kidney Institute and U.S. Renal Care's Macon Pine location.
These five clinics all had violations during the past five years, state records show. The state regulator, the Department of Community Health, failed to respond to questions about why so many dialysis centers failed to meet federal standards.
At Nephron Corporation's Gwinnett Dialysis Center, inspectors found deficiencies four times since 2017, often for breaches of infection controls, such as placing a bloody syringe next to sterile supplies or using contaminated gloves, reports state. In 2020, staff placed patients in "immediate jeopardy" for failing to test the safety of water used in dialysis and then neglected to properly report COVID-19 data.
Follow-up inspections found that the clinic addressed these problems. Nephron, a chain based northeast of Atlanta, did not reply to repeated requests for an interview.
In Middle Georgia, a 2019 investigation found that Dublin Kidney Institute placed one patient in "immediate jeopardy" and two others in harm's way because it did not demonstrate that it performed an audit after a patient tested positive for Hepatitis C. He later died. Inspectors observed nurses using contaminated gloves and watched one fail to disinfect a bloodline and port before reinfusing blood into a patient.
A clinic representative declined to answer questions about the investigation. She said the center's score was low because it opened in 2018 and had few patients when the data was collected the next year.
Dialysis Care Center of Homer Glen, Ill., acquired the Hapeville and Stone Mountain clinics in 2020, and a representative contacted the AJC after the initial publication of this story to say that there is also new management at the locations and that owners and managers have worked to address the issues raised in the inspection reports.
The other low-scoring clinics did not respond to repeated requests for comment.
Lapses in routine infection prevention measures and equipment maintenance are easy to avoid during dialysis, said Dr. Stephen Pastan, an Emory University professor.
"Taking care of the patients can be challenging, but providing the procedure is not," he said.
Yet under the current CMS system, even good facilities can face financial penalties—often for factors outside their control. Those that serve poor neighborhoods, Black communities or rural populations can score poorly because they are more likely to have patients who have multiple chronic ailments, struggle to afford healthy food or skip appointments because of childcare or transportation problems.
"One thing they don't account for is structural inequality and social risk," said University of Chicago Department of Medicine professor Dr. Milda Saunders.
Some clinics boost their scores by refusing to take the sickest patients, researchers said. And because Georgia was one of the 12 states that refused to expand Medicaid, lower-income patients tend to delay treatment until they are extremely ill.
Experts recommend that patients look up a center's Medicare five-star rating to avoid substandard care, but it may not make their choices clear. Some excellent clinics don't rate five stars, Emory's Pastan said.
The Dublin facility wasn't rated at all. The Gwinnett clinic received one star, and Hapeville claimed two. The ones in Macon and Stone Mountain won three.
For now, patients must learn how to advocate for themselves, Duke's McDevitt said. They should be wary if a clinic has repeat violations.
But what patients really need, he added, is something they can't get on their own.
"We need a wholesale reform of the system," he said.
Atlanta Journal-Constitution article
*Note 1, the study 'How Acquisitions Affect Firm Behavior And Performance: Evidence From The Dialysis Industry∗' (August 2020) had the following among its' findings:

-----"We also note that acquirers are more likely to be for-profit firms." (such as DaVita and Fresenius)
-----"Along almost every dimension we measure, patients fare worse at the target facility after acquisition, most prominently in terms of fewer kidney transplants, more hospitalizations, and lower survival rates."

-----"Hospitalizations increase 4.2% after acquisition, with patients becoming specifically more likely to be hospitalized for septicemia and cardiac events (see Online Appendix E). For septicemia, the blood infection common among dialysis patients,we find that patients are 10.0% more likely to be hospitalized following an acquisition."