Details

Written by:

Super User

Category: Concerns
Hits: 4
What Is Chronic Kidney Disease, and How Might It Affect You?
An overview of how kidneys work, how they do much more than just make urine, treatments used when kidneys fail, disparities, and how when a large corporation comes in hospitalizations go up and treatment quality goes down.
Overview
----------------------------------------------
Kidney Dialysis Is a Booming Business—Is It Also a Rigged One?
This article sheds light on how the dialysis companies found a loophole in the Affordable Care Act where dialysis patients can be funneled into private insurance with the help of the AKF (American Kidney Fund), who helps pay the patients premiums.  Here the health insurance companies can be gouged by the dialysis companies with impunity, bypassing the lower rates paid by Medicare.  And who are major donors to the AKF?  The for-profit kidney dialysis companies Davita and Fresenius who are getting an excellent return on their investment!  (while driving up health insurance rates for the rest of us)  One question that has to be asked why the AKF isn't helping with things like Medigap policies to help cover the 20% Medicare doesn't cover.
Also highlighted in the article is the expensive, low-quality care offered by the dialysis companies.
Part 1 -- The Market
----------------------------------------------
Should Your Kidney Doctor Have a Financial Stake in Dialysis?
Read about nephrologists discussing the pros and cons of joint ventures - doctors and dialysis companies sharing ownership in dialysis clinics.  Joint ventures are normally not allowed by the Stark Law but dialysis got an exemption.
Notable quotes:
"If you really look at the corporation's obligation to shareholders and you take that seriously, and you take the obligation to patients seriously, I think they're fundamentally incompatible."
"With six-figure medical school debt and facing a specialty choice with long hours and relatively low pay, owning a piece of a dialysis clinic is a lifeline, he (Nelson Kopyt) says."
"an ESCO is a partnership between dialysis clinics, physicians, and hospitals to innovate and improve the care of patients in kidney failure."
"Berns outlined some of his ethical concerns about the hospital system entering a joint venture ESCO. Even if the hospital didn't deliberately steer patients towards receiving care at Penn's own ESCO, employees could feel subconscious pressure to do that."1
1This article mentions ESCOs and the University of Pennsylvania.  This reminds this writer of a pioneer in home and clinic nightly dialysis (aka slow nocturnal), Dr. Robert Lockridge.  He was bought out by the University of Virginia.  It would be interesting to find out if he had a joint venture with the University of Virginia and what he thought of ESCOs.
Part 2 -- Conflicts
----------------------------------------------
For Black and Brown Kidney Patients, There Are Higher Hurdles to Care
Case studies help illustrate what minorities have to overcome for better kidney care: things like getting diagnosed later, on dialysis longer making it harder to get a transplant, less quick getting on the transplant list, problems with diabetes and hypertension, less likely to get a preemptive transplant, victims of misinformation, dental problems, and even a test that discriminates against them!
On a more uplifting note, meet a doctor who helped change the racial landscape of kidney donation!
Part 3 -- The Disparities
----------------------------------------------
The Lifesaving Potential of Less Than Perfect Donor Kidneys
Some great news for a change about how better hepatitis C drugs have allowed the use of formerly rejected kidneys!  That and better immunosuppression drugs have expanded the number of kidneys available for transplant.  It was also pointed out none of the patients in UPenn and Johns Hopkins studies had developed any signs and symptoms of hepatitis C.  In South Africa HIV infected kidneys have been transplanted into HIV infected patients with great success!
Part 4 -- Less than Perfect Kidneys
----------------------------------------------
Few Kidney Patients Can Access Palliative Care or Hospice—Why?
This story tells how dialysis patients have problems accessing hospice and palliative care while on dialysis.  It also includes a case study of former police officer Bob Swain who chose hospice care over dialysis due to other problems he was dealing with.
Part 5 -- Alternatives
----------------------------------------------
America on Dialysis
Carrie Arnold, lead reporter of this series, is interviewed by Jeffery DelViscio
Details

Written by:

Super User

Category: Concerns
Hits: 321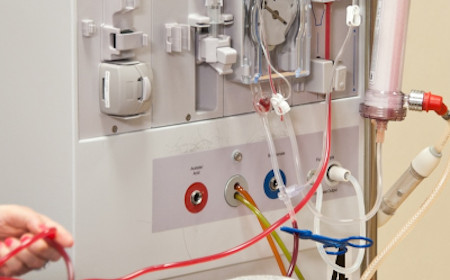 Credit: National Institutes of Health
Editor's note: This story has been updated to include comments by the new owners of the Hapeville and Stone Mountain clinics.
At Hapeville Dialysis Center, patient deaths surged more than six times above the national average in 2018, yet administrators failed to investigate why, according to state inspection reports.
In Stone Mountain, clinical staff at Veritas Dialysis mishandled potentially infectious waste and used dialysis machines that had broken parts for months.
And at Gwinnett Dialysis Center in Lawrenceville, a nurse in 2020 stored blood specimens inside a refrigerator that stored patient medications.
These centers for the treatment of end-stage kidney disease are among the 45% of Georgia dialysis centers that have fallen so short on patient safety, care and other standards that regulators decided to dock their pay this year.
Read more: Failing safety standards at dialysis centers put Georgians at risk
Details

Written by:

Super User

Category: Concerns
Hits: 4444
(see John Oliver and friends' take on kidney dialysis after the following)
!!!!!!!Out Now!!!!!!!
How to Make a Killing: Blood, Death and Dollars in American Medicine
(from the author's website)
How did a lifesaving medical breakthrough become a for-profit enterprise that threatens the people it's meant to save?
Six decades ago, researchers achieved the impossible: a treatment that made kidney failure a manageable condition instead of a death sentence. And yet, in the hands of a predatory medical industry, this triumph led to skyrocketing costs and worsening care.
A gripping microcosm of American health care gone wrong, How to Make a Killing recounts how the optimism of the 1950s and 1960s—when transplants and early dialysis machines offered hope—gave way to anguished debates about the ethics of rationing (and profiting from) life-saving care. After Congress made renal disease the only "Medicare for All" condition, Big Dialysis proliferated, and the Hippocratic oath gave way to the profit motive.
A triumph of investigative research, Tom Mueller's book features an unforgettable cast of characters: CEOs who dress as Musketeers to exhort more aggressive profit-seeking, nephrologist insiders who reveal the substandard care this causes, and heroic patients who risk their lives to reveal the truth.
Tom Mueller's books and articles
--------------------------------------------------------------------------------
(updated 2022)

(Click the image for information on finding a living donor, home dialysis, and other info)
The following video and articles highlight what happens when a CEO can't tell the difference between a Taco Bell and a dialysis clinic (that observation was made by the comedian John Oliver):

--------------------------------------------------------------------------------
Profit and Loss: America on Dialysis
This December 2020 Scientific American series of articles points out many of the multitude of problems affecting kidney dialysis:  
*When large corporations come in hospitalizations will go up and treatment quality will go down.
*The dialysis companies have figured out how to game the system and increase their already outrageous profits by getting dialysis patients off Medicare and into private insurance where private insurance can be gouged!  This results in higher insurance premiums for the rest of us.
*Also pointed out are the downsides of having nephrologists have a financial stake in dialysis clinics.  There is also some discussion of the other side of the argument.
*Another article points out the racial disparities in dialysis.  However one doctor does provide a bright spot.
*An uplifting article discusses how the pool of available kidneys has been increased with the use of things like hepatitis C infected kidneys.
*An article discusses how dialysis patients have a hard time accessing palliative and hospice care.
--------------------------------------------------------------------------------
Dialysis: Last Week Tonight with John Oliver
The link provided below brings up a quick 24 minute video which provides an excellent introduction to the goings-on and history of kidney dialysis through the anesthesia of humor.  Kent Thiry and Davita play a prominent role in this clip about an area of healthcare that has been on the forefront of bad medicine.  It led one commentator to state: "We are paying the most to get the least." That seems to be American healthcare in a nutshell.":

                                                                                             Credit: John Oliver on Youtube
John Oliver and dialysis on Youtube
--------------------------------------------------------------------------------
**********************************************************
Bonus - Click for Diabetes Care
(a bit more encouraging - sort of)
**********************************************************
--------------------------------------------------------------------------------
The Strangest Show on Earth!
Former CEO Kent Thiry liked to call Davita a "Village" where he was the mayor.  But was it as Dr. Peter Laird of Lancaster CA called it: "the Village of the Damned"?  This hard-hitting article by Luc Hatlestad might help you decide:

                                                                                                                        credit: Eddie Guy and 5280 magazine

Read more: Large Dialysis Organizations Run-Ins with The Law and the Media
Details

Written by:

Super User

Category: Concerns
Hits: 5548
Questions for Kent Thiry
1) The U.S.A has had the highest kidney dialysis mortality rate in the industrialized world! It looks to us DaVita was a large part of it. Can you explain why this is?
2) A poorer country, Italy, has a lower kidney dialysis mortality rate than the U.S. (10% vs our closer to 20%) and spends one third less. Can you explain this?
3) A non-profit in the U.S., DCI, appears to have a much lower kidney dialysis mortality rate than both the large for-profits: DaVita and Fresenius. Can you explain why this is?
4) Why do some call our dialysis treatments here short and violent?
5) DaVita serves a large portion of the minority population. We recall the Afro-American dialysis population has a lower mortality rate than the Caucasian dialysis population. Shouldn't this cause DaVita's mortality rate to be better than DCI's? Why the discrepancy?
6) When DaVita recently settled a $55 million Judgment for misusing the drug epogen, DaVita stated it was the physicians prescribing the drug. Why did for-profit physicians, like DaVita's, find it necessary to prescribe sometimes three times what the non-profit physicians were prescribing? (Epogen in high doses has been linked to increased risk for death, strokes, and heart attacks in kidney dialysis patients)
7) What are DaVita's best practices and what are they like at DCI and other countries?
8) Why does DaVita strive for a high patient/staff ratio when the state of Vermont and many say a ratio of 9 patients to 3 techs and one nurse would avoid problems when things go wrong?
9) Why does DaVita continue the dangerous practice of reuse when there are so many studies saying this is a dangerous practice? There are counter-studies (unreliable?), but the bottom line seems to be people like Betty Allen might be alive today if the practice of reuse was abandoned.
10) We would like to know why patients come into dialysis with kidney disease, yet so many pass away with heart disease?  (would it have anything to do with the short, violent treatments mentioned earlier?)
11) From '91 to '01 the USRDS shows the number of patients doubling, costs tripled, yet the death rate was up 123%. We were wondering where the money went? - looks like it didn't go to patient care!
12) And are large, rich, for-profit dialysis companies such as DaVita and Fresenius still rationing gauze? Isn't that like rationing bullets in a war?